How to reach?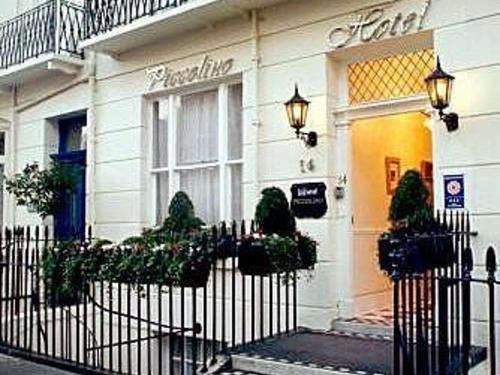 We are just 2-3 minutes walking distance from Paddington Station
. You can reach Paddington Station by: 
How to Reach Paddington from Heathrow Arirport
1. The 
Heathrow Express
 is the quickest way into central London. Heathrow Express operates four non-stop trains per hour to and from
Paddington
. Trains depart from Paddington between 05.10 and 23.25 and return from Terminal 5 (calling at Terminals 1,2,3) between 05.07 and 23.42 (05.03 and 23.48 on Sundays). Trains return from Terminal 4 between 05.23 (05.53 on Sundays) and 00.01. Journey time is 15-20 minutes. Fares are from ?16.50 single (online price).
2. 
HeathrowConnect.com
 also runs a train service between Heathrow Airport and Paddington station via five intermediate stations in west London. Because it has a few stops along the way the fare is a bit cheaper. Journey time to Paddington is 25 minutes and trains operate every 30 minutes (every 60 minutes on Sundays). Fares are from ?7.90 single.
3. 
By Tube:
 The Piccadilly Line connects all Heathrow terminals with frequent services to central London between 05.02 and 23.42 (Heathrow Terminal 4 station closes at 23.35 Monday to Saturday and 23.15 on Sunday.)
4. 
By Coach:
National Express
 operates up to three coaches per hour to and from Victoria Coach Station. Journey time is about 35-60 minutes but remember to allow extra time in case of traffic problems.
How to Reach Paddington from Stansted Airport
Stansted Express : Fast, frequent and convenient trains run between the airport and London Liverpool Street from early until late.
? Trains depart every 15 minutes. 
? Average journey time 46 minutes to Liverpool Street and 35 minutes to Tottenham Hale. 
? Express class single fare
?18 (discount for online booking). 
? Also calls at Bishop's Stortford, Harlow Town and Tottenham Hale.
For London Underground services, change at Tottenham Hale (Victoria Line) or Liverpool Street (Circle, Metropolitan and Hammersmith & City lines).

How to Reach Paddington from Gatwick Airport
Gatwick Express runs very frequent shuttle trains to/from Victoria Station. 5AM to midnight trains run every 15 minutes. The trip takes about 30 minutes.

How to Reach Paddington from Luton Airport
Luton Airport at the moment has no train station. Instead to get to the Luton Airport train, you must take a free shuttle bus down to Luton Parkway train station. 

At Luton Parkway station there are two train operators into London. First Capital Connect operate up to 8 trains an hour. Less frequent trains run to St Pancras station next to Kings Cross. From Kings Cross take Circle Line or Hammersmith and City line to Paddington.

By Cab:
Alternatively you can reach us by using cab service. We can provide you pick up service from all airports at a very reasonable price. Our standard prices for two persons and two luggage start from:

For Heathrow GBP 62.00 (including one hour waiting time and parking charges)
For Stansted GBP 75.00 (including one hour waiting time and parking charges)
For Gatwick GBP 72.00 (including one hour waiting time and parking charges)
For Luton GBP 68.00 (including one hour waiting time and parking charges) 

Please provide us your flight, flights No, Name of airport leaving, Name of airport arriving, Flight arrival time and your mobile number. Please ask for quotation for more persons.